Musik in Context: Film III - Armenia
New date
BETRIEBSWERK, Heidelberg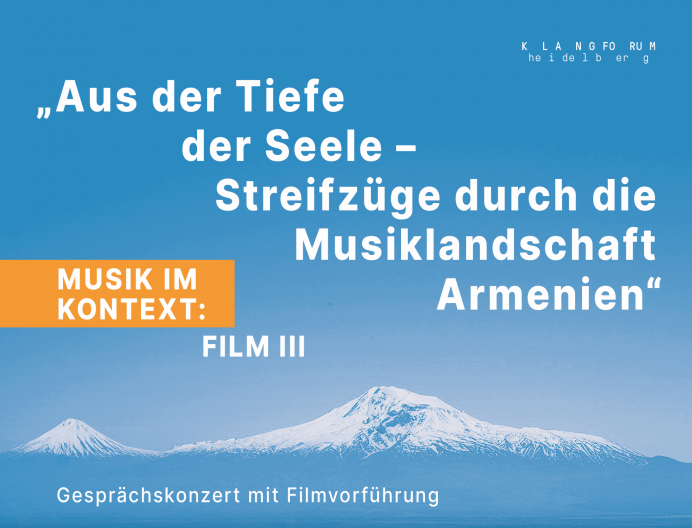 New date for postponed event from April
This is the third part of the series Musik im Kontext evolving around "film".
This time we're proudly hosting the Leipzig based scriptwriter and filmmaker Anne-Kathrin Peitz and the pianist and composer Steffen Schleiermacher offering a musical portrait of Armenia.
"They invented wine. They have their own church with their own head, called Katholikos. Their country became the first Christian state in the world. Their writing culture is truly ancient and so is their 2800 years old capital Yerevan. But what's more, Armenia – with a size comparable to the province of Brandenburg – has one of the oldest and richest music cultures in the world."
The documentary "Aus der Tiefe der Seele" by Anne-Kathrin Peitz is a musical journey through a country that isn't only synonymous with genocide, but it also stands for an utterly remarkable cultural heritage. During its duration of one hour, the film searches for the sound of Armenia between yesterday and today.
Although the beginnings of Armenian music date back to 6000 years ago, the centuries seem to melt away with ease, when one listens to contemporary artists, as they always also make the past audible and bring it to life. To demonstrate this, various encounters with active musicians and their worlds of sound form the focus of this filmic expedition: 
The country's oldest heavy metal band Ayas, the young kanunist Narek Kazazyan, the eight-headed female Geghard Vokal Ensemble, the godfather of avant-garde, composer Tigran Mansurian, duduk player Gevorg Dabaghyan, or the jazz pianist Vahagn Hayrapetyan – Across all genres, the Armenian music scene always turns to its tradition and its own history.
Iconic places such as the monastery Noravank, the mountain monastery Geghard, Armenian vineyards, the metropole of Yerevan and Greek temples form stunning backdrops for concert recordings indoors and outdoors. During the course of this journey, this heterogenous multitude of sounds, places and artists becomes a multifaceted portrait which is an encounter with music, makers and other individuals likewise.
Film by Anne-Kathrin Peitz
Produced by EuroArts
Co-production with MDR
Collaboration with Arte
Sponsored by Mitteldeutsche Medienförderung
65 min. / 2019