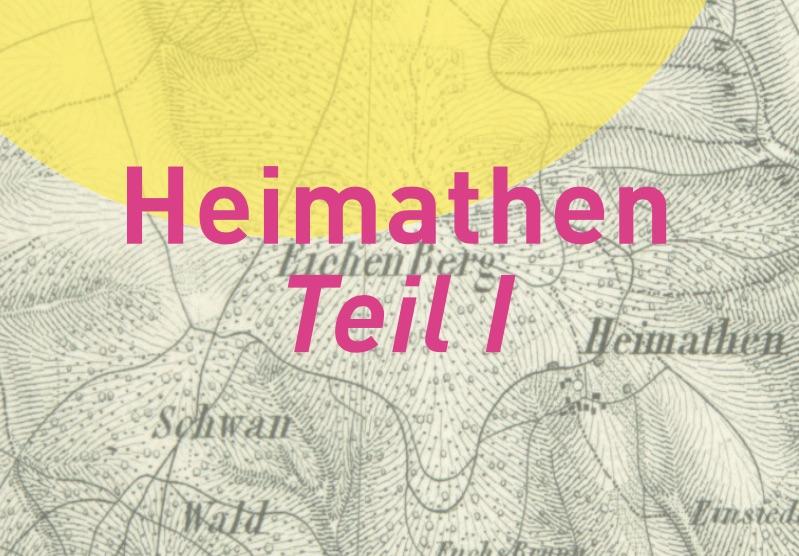 Heimathen is a village in Franconia, but it also looks like it might be the (archaic) plural form of Heimat, the German word for "home". The subtitle of this project – "This or another, the longing to arrive" - tells us perhaps a little more. Inspired by the leitmotif threading its way through Baden-Württemberg's Summer of Literature 2016 (home and identity in literature) and by the works of Austrian writer Adalbert Stifter, the two-part KlangForum concert project revolved around music and language, intercultural migration and – Heimat. KlangForum Heidelberg approached "Heimathen" from two directions, one by way of texts set to music, the other via the traces of memory revived by looking back from exile. Works for voices and instruments had been commissioned from five composers from different cultures (Alvaro Carlevaro, Bnaya Halperin-Kaddari, Jan Kopp, Samir Odeh-Tamimi, Hannes Seidl) and were premiered in 2016.
Home is not a place but a feeling. 

Home is where you feel most at home. 

It is a feeling that brings out your "true self".
It is a feeling of belonging, a feeling of tranquillity.

At home there is no homesickness, no other peculiar feelings,
no, at home you feel that you've arrived.
Ece, 14 years old
(written for a workshop as part of the lead-in to "Heimathen")
Together with already existing settings by Elena Firssowa, the literary-cum-musical overture to "Heimathen" took the form of Jan Kopp's Sehnen I ("Longing I"), a work based on texts by Mandelstam and commissioned expressly for the festival.
The Russian poet Ossip Mandelstam studied in Heidelberg, where he also embarked on his literary career. For that reason, he was a focus in the 2016 programme of the "UNESCO City of Literature: Heidelberg" event. Since 2014, Heidelberg has been part of the worldwide UNESCO Creative Cities network. Ralph Dutli, the leading Mandelstam translator of the day, recited poems in Russian and German. Two other commissions, intemperie by Alvaro Carlevaro from Uruguay and There is no place like home by Hannes Seidl, were interspersed with works by Brahms, Schoenberg, Zimmermann, and Webern.
The "Gegenklang" ensemble of the Elisabeth-von-Thadden school was integrated into the concert with an impressive sound collage, a self-performed commission from KlangForum Heidelberg.
The continuation of Jan Kopp's commission Sehnen II during the second festival weekend was juxtaposed with the first performances of Abramelin by the young Israeli composer Bnaya Halperin-Kaddari and Palmyra by the native Palestinian Samir Odeh-Tamimi. These new compositions shared the programme with exile-related settings by Schoenberg and Eisler and thematically pertinent works by Grisey and Brahms.
Finally, Pour la Paix for tape-recorder, reciter and voices by Iannis Xenakis brought the festival to a memorable close. Readings from his book Buch der Dörfer (Book of Villages) by Hans Thill supplemented the programme not only at the traditional concert venue but also in the shuttle bus transporting audiences from one performance site of "Heimathen" to another between a threesome of towns situated in the Metropolitan Region.